Photo booth rentals are rented out by the hour with a 2 hour rental being the minimum. We have a minimum rental because a lot actually goes in to your photo booth rental. Unlike other companies, when you book with Party Booths, we reserve your booth for the entire day for you making time changes a breeze or even adding some overtime on the evening of your rental. In other words, we never have to get YOUR booth to a second event after your event. We also include custom designed graphics with EVERY rental from Party Booths as well! This means you get to work back and forth with our design department until we get the graphics for your onsite prints EXACTLY the way you envisioned it!
The first step is contacting us over the phone, via email, or by clicking HERE so you can check our availability and get a price quote. You can always view our prices on our website HERE Once you find out we have your date available and have a price locked in, you can click HERE to book online OR you can always send us an email to info@partybooths.com or simply give us a call at 866-437-0297 to book over the phone. Once we collect some brief information as well as the $200 deposit (which goes towards your rental price), we will send out some confirmation emails as well as a few more questions pertaining to the finer details of your rental. From then on, you will be in our system and we will check in with you periodically up until your event date. The remaining balance of your rental is always due 2 weeks prior to your event date.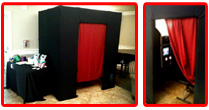 A few days prior to your event date, your photo booth rental attendant will give you a call to introduce themselves to you and to confirm all of your details. They will also share their cell phone number with you at this point. Your attendant will always arrive 1.5 hours PRIOR to the start time of your event to begin set up. The booth only takes about 45 minutes to set up however it's our company policy that we arrive 1.5 hours early just to be on the safe side. Our operation requirements are simply to have access to a standard wall outlet (we only draw around 4 amps) and we ask that a small table is provided for us.
Our onsite attendant will be there operating the booth for the entire rental period making sure your guests get the most use out of your rental. They will assist the guests in where to look, help with ideas for poses, let them know they are free to go through the booth as many times as they like, as well as inform them about the online gallery where they can see what everybody else was doing inside the booth too. The attendant will also make sure the printer(s) are stocked with paper / ink, etc through out the duration of your rental as well. The booth is fully automated however providing the onsite attendant (included with every rental) always provides that next level of professionalism. We strive to hire outgoing attendants too so a few one liners are sure to be heard along the way as they make sure your guests are having a blast with the photo booth!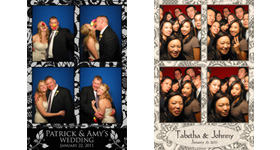 Your guests will enter the booth where they are greeted by a lit up monitor / screen. On the screen will be some brief instructions on where to look, and how many different poses will be done. Just below the screen are illuminated start buttons. All your guests have to do (and the booth attendant will be there to assist when needed) is press one of the start buttons to begin the session. The computer will offer some words of encouragement and the quick countdown begins. Just prior to the flash firing, there will be arrows pointing up to the camera letting your guests know where to look while they strike their pose. After each pic is taken, there are countless "one liners" that are quickly displayed to ensure your guests are laughing and having a great time. When the final photo is taken, a message appears on the screen instructing your guests to step outside the booth and await their masterpiece which will begin printing automatically in a matter of seconds. While those guests are waiting for their photo(s) to print out, the next group can enter the booth through the curtain and begin their photo booth session. Once that curtain close, almost anything can happen since the people inside are in total privacy. Of course, that is, until we post the photos up on to the world wide web! 😉
The guests continue to go in the booth capturing more and more photos as the rental goes on. Make no mistake, games of one-upmanship are sure to ensue as your guests think up new, creative ways to capture that PERFECT photo! When the rental period finally comes to an end, the attendant will begin packing up and will be on their way.